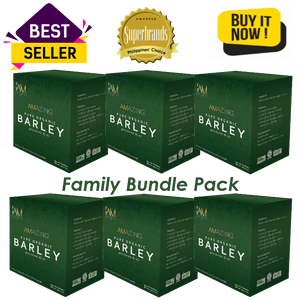 Amazing Pure Organic Barley Powdered Drink is a daily supplement that is made from barley grass.
Barley Grass is the 21st-century superfood that provides every nutrient necessary for survival, including proteins, all 8 essential amino acids, highly alkalizing minerals, and a whole range of vitamins. It is an easy path to loading up on youth-enhancing muscle building and immune-strengthening ingredients.
Why Take Amazing Family Bundle Pack instead of 1 Box of Amazing Pure Organic Barley Powdered Drink? If you want to protect and to boost the immune system of your whole family, this is the Bundle for you. You can see the true effect of our product if you are continuously drinking it. For example, you cannot get a health hazard from drinking one bottle of soft drinks. But if you continuously drink this every day for how many months or years, you'll get health hazards like diabetes, obesity, kidney troubles, etc. For Amazing Pure Organic Barley Powdered Drink, it's the other way around. You'll get the following benefits:
Antioxidant
Ulcerative Colitis
Detoxification
Boost Immune System
Fights Cancer
Protection from radiation and cellular damage
Fights addiction
Acid-alkali Balance
Rejuvenating Effects
How does the Amazing Barley Powdered Drink process?
Our Amazing Barley Powdered Drink is made from organically grown Barley grass in Australia without using any chemical pesticides, herbicides or fertilizers. The plants are harvested when the leaves contain the widest spectrum of nutrients, and low-temperature processing is used to convert the barley grass into concentrate Barley powder.
DIRECTIONS:

Drink our Amazing Barley Powdered Drink on an empty stomach 30 minutes to 1 hour before a meal. Mix it with 160ml to 180ml of water (warm - not hot or boiling or cold). Stir for 30 seconds until all contents are dissolved.