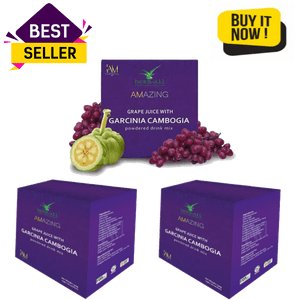 Amazing Grape Juice with Garcinia Cambogia is a supplement that is "a revolutionary fat burner" and "a breakthrough in natural weight loss". One of the hottest weight loss product today. 
Garcinia Cambodia is a native fruit from Indonesia. The extract of this fruit is used for medicinal purposes such as weight loss, stomach ulcers, and digestive problems. 
Why Take Amazing Trio Slimming Pack instead of 1 Box of Amazing Grape Juice with Garcinia Cambogia? You can see the true effect of our product if you are continuously drinking it. For example, you cannot get a health hazard from drinking one bottle of soft drinks. But if you continuously drink this every day for how many months or years, you'll get health hazards like diabetes, obesity, kidney troubles, etc. For Amazing Grape Juice with Garcinia Cambogia, it's the other way around. You'll get the following benefits:
          ✔ Fat Blocker
          ✔ Appetite Suppressant
          ✔ 
Lowers Blood Cholesterol
          ✔ Increasing Serotonin levels in the body (Happy Hormone)
          ✔ Boosts Metabolism
          ✔ Reduces fat and keeps the excess weight down
         🚫 No Crazy Diets
         🚫 No Crazy Workout
         🚫 No Palpitation
         🚫 No Laxative
         🚫 No CR Moments
Main Ingredients:
Grape extract

Garcinia Cambodia extract
Stevia
DIRECTIONS:

Drink our Amazing Grape Juice on an empty stomach 30 minutes to 1 hour before the meal. Mix it with 160ml to 180ml of water and add ice if desired. Stir for 30 seconds until all contents are dissolved.

 
WARNING:
Amazing Grape Juice with Garcinia Cambogia powdered drink is not intended for children, pregnant or lactating mothers. We encourage you to use this product to attain your weight goal and ease yourself into a steady, permanent healthier lifestyle.
Not suitable for people with high blood pressure, diabetes, heart problems or are under any prescribed medication.